See on Scoop.it – Custom Integration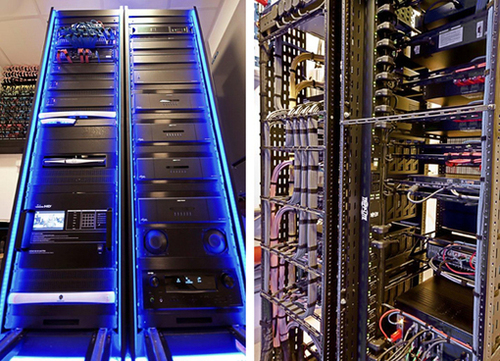 The Brief

The brief was to plan and integrate a whole range of systems to control lighting, security, HVAC, ICT and state-of-the-art entertainment throughout the property.

Planning and Design

Since the project was already slightly behind the schedule, our team was under pressure to deliver a complete design for the quick and smooth installation of the wiring infrastructure.

A set of comprehensive drawings was prepared, comprising plan views, line diagrams, schematics, elevation drawings and a number of schedules such as heat output, power requirements and dimensions of all equipment provided. Cable lengths of the data and AV wiring had to be verified throughout the whole house to ensure industry compliance, and lighting control system was broken down into two separate locations to minimise the length of the electrical wiring.
Special attention had to be paid to the joinery sizing to ensure that it could host local devices and had sufficient ventilation. We had to work very closely with a number of trades on the project, including the lighting designer, electrical contractor, HVAC specialist, joiners, security contractor, swimming pool specialists and swimming pool motorised floor manufacturer, as well as the architect and the main contractor. Efficient communication proved to be crucial.

See on hiddenwires.co.uk